26 (X%) of people have less beautiful faces than the person with this face.
74 (Y%) of people have more beautiful faces than the person with this face.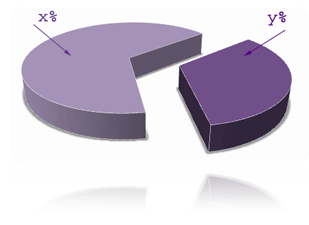 Beauty assessment is based on the analysis of the geometric properties of a face Ц on beauty aspects that are stable and objective.
"Beauty" is the value of Deviation from Ideal Beauty. The values of this "deviation" may vary from 0 to 500.
Beauty that equals to zero is Ideal Beauty. The closer the Beauty value to zero is, the more beautiful the face is. This face has small deviation from perfection.
Beauty Rank is the ratio of the Beauty to the maximum value of deviation from Ideal Beauty (it is equal to the Beauty of the ugliest face) that is multiplied by 100%. It is the representation of Beauty in percent.
The maximum value of deviation is calculated mathematically according to the distribution curve for people whose deviation from ideal beauty varies within a wide range.
The Beauty Rank equal to 100% means ideal beauty. Otherwise the value of 0% means being ideally unbeautiful.
Quick Links: